Page Program
The Senate is not currently accepting applications for the 2021 Session.
However, interested students may email SenatePageProgram@flsenate.gov with specific questions about the Program. Students are encouraged to check this website periodically for any updates on the application period.
Page Program Overview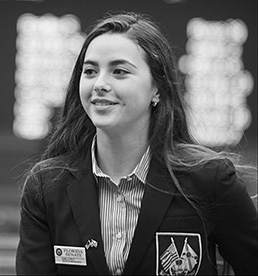 During regular sessions of the Florida Legislature, participating students from all across the state come to Tallahassee for one week to assist members of the Legislature in carrying out the work of the people. A one-week limit is set so that as many young people as possible have the opportunity to serve during the 60-day session.
Page Program allows for:
Senators to sponsor 2 Senate Pages during the 60-day regular session
Those students 15 years old to 18 years old by the first day of their assigned week to participate
Participants to provide one (1) week of service to the Florida Senate
Participants to receive 40 hours of community service for their week of service or a $250.00 stipend, they may not receive both or a combination of the two.
If selected, participants are required to wear a dark navy blue blazer each day of service, with a patch (provided by the Senate) affixed to the front left pocket and be professionally dressed.
Participants are strongly encouraged to wear professional business attire (which includes comfortable professional shoes).
Button-down shirts with ties
Blue jeans are not permitted
All skirts must be at least knee-length
Sandals, flip-flop or open-toed shoes are not allowed
The Page Program does not provide housing, meals, or transportation to and from the Program.
Participants are on their own for lunch. Lunch options to consider are to pack a lunch, purchase food from the Capitol Cafeteria, or accompany a parent/guardian off site.
A completed application is required from all interested students. The application must include the student, parent/guardian and principal (or designee's) signature. Please note that some high-schools have additional attendance and g.p.a. requirements that must be satisfied prior to approving a student's participation in our program.
Page Responsibilities
During their assigned week, Senate Pages will assist members of the Florida Senate by distributing materials and messages, learn about the legislative process through a hands-on approach, and experience a "mock session" in which students role-play as Senators and engage in debating, discussing and voting on legislation. Pages may also lead the Pledge of Allegiance on the Senate floor during Session, deliver copies of correspondence or other legislative materials to Senators (within the Capitol Complex or Senate floor) and participate in educational tours and activities.
Contact
Contact the Page Program at:
Office of Senate Administration
Room 225 Knott Building
404 South Monroe Street
Tallahassee, Florida 32399-1100
(850) 487-5636 or (850) 487-5256
Fax: (850) 410-0065
SenatePageProgram@flsenate.gov