Kathleen Passidomo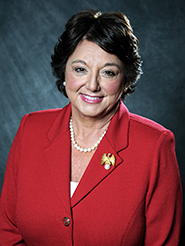 President
The Senate will convene on Wednesday, March 29, 2023 at 3:30 p.m., or upon the call of the President.
Calendar
No events scheduled for this day.
2023 Legislative Session
The Senate convened for the 2023 Regular Session of the Florida Legislature on March 7, 2023. The 60-day session is scheduled to conclude on Friday, May 5, 2023.
Recent Posts
President Passidomo Highlights $3 Billion in State Investments in Hurricane Recovery

March 24, 2023 - Press Release by President's Office

Senator Jay Collins to Host Press Conference to Condemn the Authoritarian Cuban Regime and the Recent Visit of Cuban Ambassador to Tampa

(pdf)

March 24, 2023 - Publication by Senator Collins

Senate Passes Historic School Choice, Parental Empowerment Legislation

March 23, 2023 - Press Release by President's Office

Senate Budget Invests in Infrastructure, Education, Tax Relief & Historic Reserves

March 23, 2023 - Press Release by President's Office

Senator Ileana Garcia Responds to Misinformation on Legislation to Address Illegal Immigration, Guard Against Human Trafficking

March 23, 2023 - Press Release by Senator Garcia

FL SENATE DEMS NEWSLETTER - Week 2: Fighting for Florida

(pdf)

March 22, 2023 - Publication by Minority Office

Six Weeks Is Equivalent To An Outright Ban On Abortion

March 20, 2023 - Press Release by Senator Stewart

District 9: The Perry Post

(pdf)

March 19, 2023 - Publication by Senator Perry