Kathleen Passidomo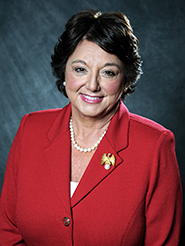 President
The Senate will convene on Monday, April 3, 2023 at 10:00 a.m., or upon the call of the President.
Calendar
No events scheduled for this day.
Expanding Access to Florida's Wildlife Corridor
The Senate unanimously passed Senate Bill 106, expanding access to Florida's Wildlife Corridor by connecting the iconic corridor to Florida's Greenways and Trails System and the SUN Trail Network, as well as recreational pathways to heritage small towns across Florida.
Recent Posts
Senate District 40 March Newsletter - Senator Ana Maria Rodriguez

(pdf)

March 31, 2023 - Publication by Senator Rodriguez

Senator Ileana Garcia Marks the Grand Opening of Mia Casa

March 31, 2023 - Press Release by Senator Garcia

Senate Passes Public Safety Package, Codifying Constitutional Right of Citizens to Keep and Bear Arms

March 30, 2023 - Press Release by President's Office

Senator Stewart Co-Sponsors Seagrass Restoration Bill

March 30, 2023 - Press Release by Senator Stewart

LIVE LOCAL: Workforce Housing Strategy Signed Into Law

(pdf)

March 29, 2023 - Publication by President's Office

FL SENATE DEMS NEWSLETTER - Week 3: The Fight for Your Rights

(pdf)

March 29, 2023 - Publication by Minority Office

Senator Stewart Co-Sponsors Biosolids Bill

March 29, 2023 - Press Release by Senator Stewart

Historic School Choice, Parental Empowerment Legislation Signed Into Law

March 27, 2023 - Press Release by President's Office